When it comes to interior design, the choice of wall tiles can make a bold effect. Choosing a fashionable and modern wall tile pattern can offer your area a modern and fresh appeal. Along with the design of the tiles, the position of installing them and the patterns they create are also important.
It can add an unmatched class or break the entire look and feel of a room. So In this blog, we will showcase the best and most popular patterns that you can make with wall tiles. These patterns are not only stylish but also functional making them suitable for a variety of uses. We will go through each pattern in-depth.
Top 8 Stunning Wall Tiles Patterns For Your Home
Herringbone Wall Tile Pattern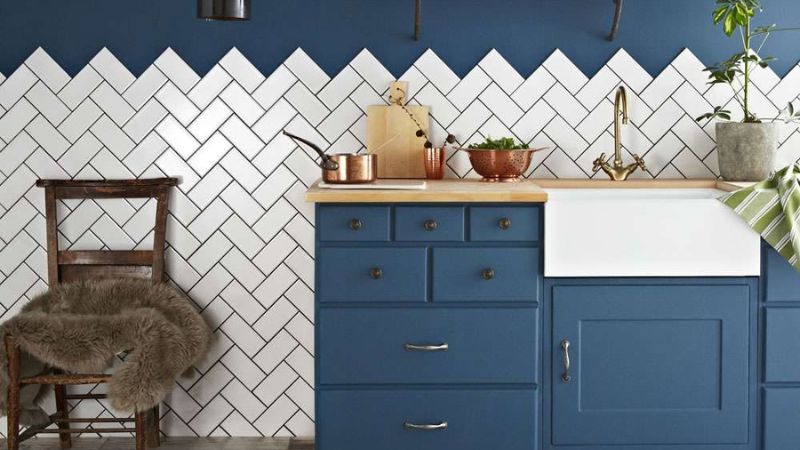 The wall tiles are arranged in a chevron-like manner to produce a herringbone-patterned look. The arrangement is at a 0 to 90-degree angle to give a sleek, modern design. Therefore, it is ideal for modern homes and workspace decor. Remember, this design goes well with small tiles like metro or mosaic wall tiles. You can utilize it in a range of colours to make a powerful impression.
The herringbone pattern is a one-of-a-kind design and can add class to your space. Therefore homeowners who seek a trendy and elegant style in their house will love this design. It's also an ideal option for individuals who want to make an impact with their wall tiles.
Step Ladder Herringbone Pattern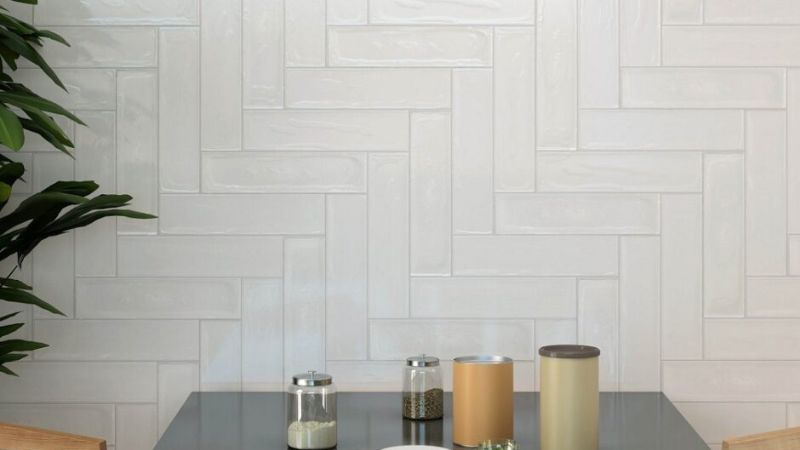 This design entails stacking tiles in a staircase pattern, with each row overlaying the one before it. It has a refined and sleek appearance that is ideal for modern interiors.
People who desire a unique look in their house will love this motif. As it resembles a stairway and can give a unique flair to any area. It's also perfect for busy areas that need to be durable, such as hallways and kitchens.
Traditional Subway Pattern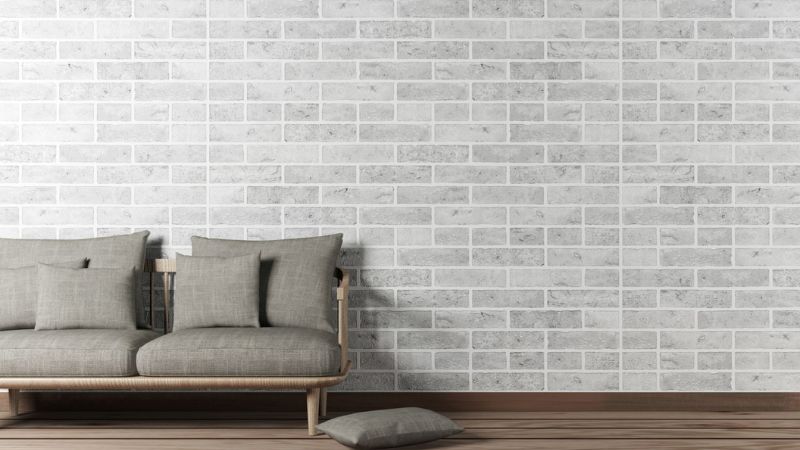 In this pattern, simple rectangular or brick-like subway tiles are placed in a straight, or diagonal pattern. It often goes best with white or neutral in color and is ideal for achieving a clean and fresh appearance in a room.
The classic rectangular tiles are basic yet classy. It provides timeless beauty to home decor and can be employed with a variety of color combinations. Therefore It's ideal for anyone looking for a classy touch in their kitchen wall tiles or bathroom wall tiles arrangement.
Geometric Pattern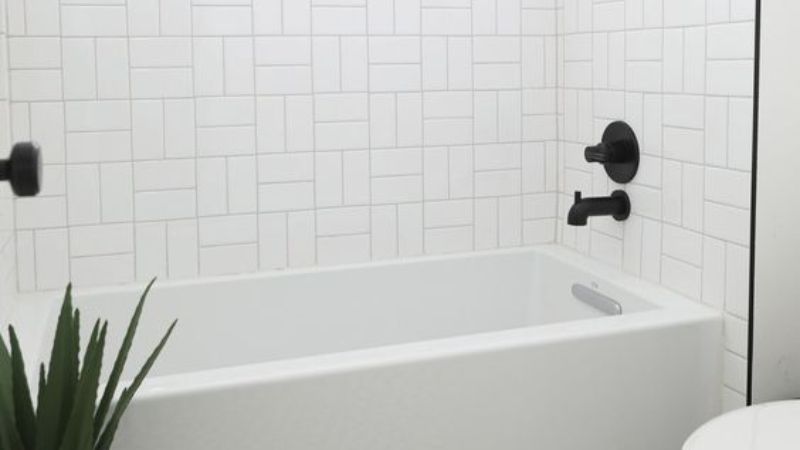 This pattern is all about angles and forms. In this pattern, the tiles are generally arranged in square and rectangular structures. It is ideal for establishing an authoritative and one-of-a-kind look in a space. Different colors of wall tiles can be used with this geometric pattern, therefore, delivering diversity.
It is a widely used pattern for accent walls, feature walls, and backsplashes. It works well with tiles of various textures and finishes, including glossy, matte, or tactile.
Classic Diagonal Pattern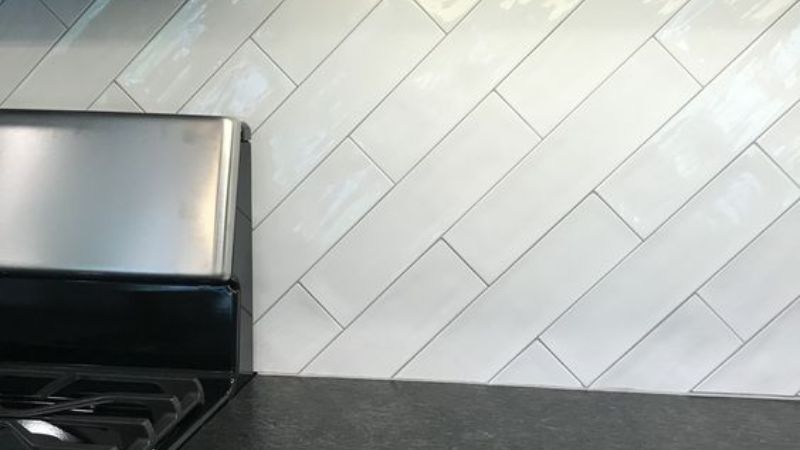 This pattern involves arranging rectangular tiles diagonally at a 45-degree angle, creating a classic look that's perfect for bathrooms and kitchens. It's a versatile pattern that can work well with a wide range of tile materials, from natural stone to porcelain.
This tile set is composed of arranging rectangular tiles diagonally to create a vintage look. Its sleek appearance makes it a perfect choice for kitchen walls. The classic diagonal pattern also works nicely with glossy tiles to increase the visual impact.
Vertical Stacking Pattern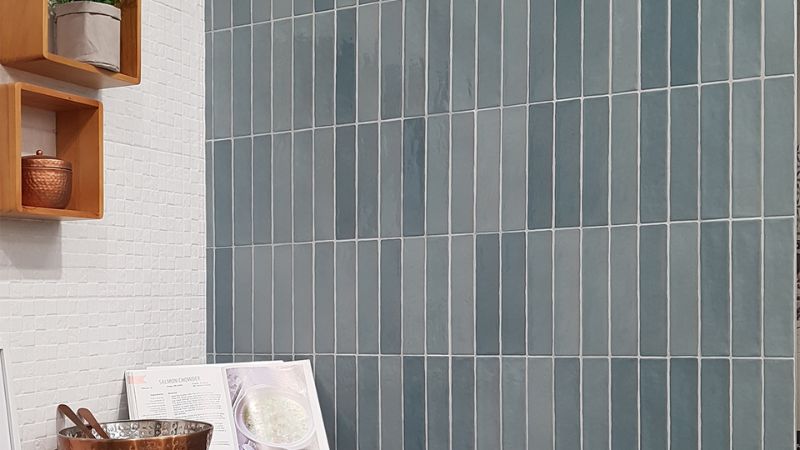 This pattern involves stacking tiles vertically in a straight or diagonal pattern, creating a clean and modern look that's perfect for contemporary interiors. It's a popular choice for shower walls and backsplashes.
This wall tile design includes stacking tiles vertically in a straight that ultimately creates simple and clean modern home walls. The vertical stacking pattern works well with tiles that are uniform in size and shape.
90-degree Classic Pattern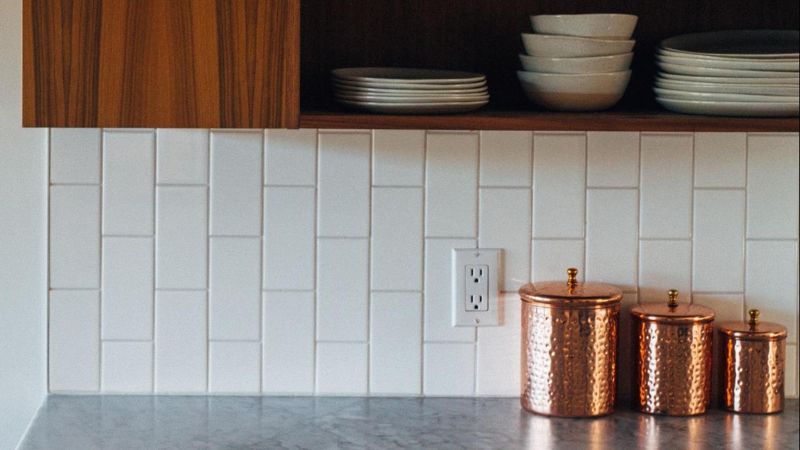 This pattern involves arranging rectangular tiles in a straight pattern with a 90-degree angle, creating a classic and elegant look that's perfect for kitchen and bathroom wall tile designs.
It provides a timeless appearance that is ideal for modern homes and workspaces. This pattern works well with glossy or matte texture tiles. Neutral hues such as white, beige, or grey suit the best for this arrangement.
Horizontal Stacked Tiles Pattern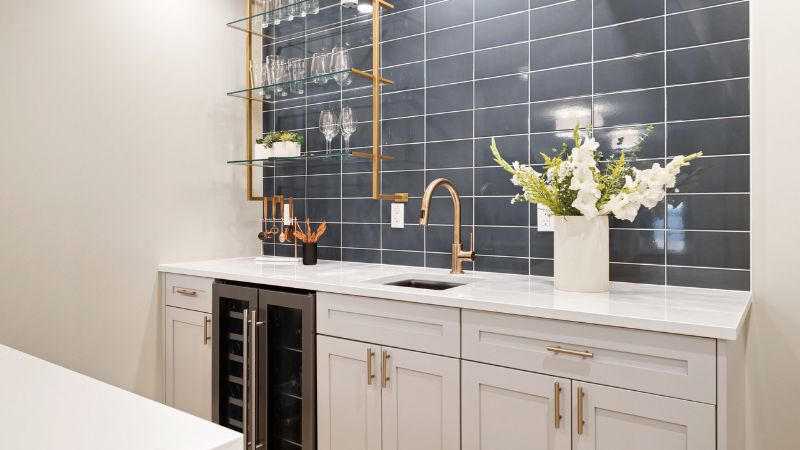 This design consists of placing rectangular tiles horizontally. It results in a streamlined and futuristic style and is ideal for bathroom walls. It's a preferred choice for highlight and feature walls.
This pattern is ideal for homeowners looking to create a relaxing and calming atmosphere in their homes. Placing the tiles horizontally provides breadth and a pleasant, serene effect to any area.
Conclusion
Ultimately, installing wall tiles in the right pattern can make all the difference in creating the ideal aesthetic for your home. Choose a tile pattern that is appropriate for your spaces.
Mahin Global Exim is the perfect choice for anyone seeking modern and trendy tiles. As a leading manufacturer and global supplier of tiles, we have a wide range of products. Our cutting-edge technology ensures the highest quality and meets the demands of today's modern consumers.
With a commitment to satisfaction, we create innovative floor and wall tile designs. Therefore, choose our tiles for your next tile project and experience the difference for yourself! Get the best quotes now.